Facebook has taken down a massive network tied to notorious political operative Roger Stone. The move comes just days before Stone is scheduled to report to prison to serve out his sentence for crimes uncovered during the Mueller Russia witch hunt. Many expect President Trump to pardon Stone before he has to report.
In a statement, Facebook announced that it had taken down 54 Facebook Accounts, 50 Facebook pages, and 4 Instagram accounts tied to Roger Stone's network. The total network taken down had more than 320,000 followers. According to Facebook the accounts were taken down for "coordinated inauthentic behavior". Facebook uncovered the network as "part of our investigation into the Proud Boys' attempts to return to Facebook after we had designated and banned them from the platform."
Several high profile MAGA personalities have been clamoring for President Trump to pardon his longtime friend and political operative before Roger Stone has to report to prison. One of the largest voices pushing for a pardon is OANN's Jack Posobiec who has been making posts like these to his nearly 900k Twitter followers.
Federal judges just released two child pornographers from the same prison that Roger Stone is being sent to, due to Covid concernshttps://t.co/zVUkIgYaOu

— Jack Posobiec 🇺🇸 (@JackPosobiec) July 7, 2020
I'm betting that Trump pardons him before he reports. What's a fair line on that bet?

— Dustin Stockton (@DustinStockton) July 8, 2020
On June 27th, President Trump retweeted this from Lori Hendry which wasn't shy about asking the President too pardon Roger Stone:
IT'S TIME TO #PardonRogerStone

As Prosecuting Attorneys Resign, Over 110,000 Sign Petition to Pardon Roger Stone via @nationalfile https://t.co/khCanGiAwG .@realDonaldTrump .@DonaldJTrumpJr

— LORI HENDRY (@Lrihendry) June 24, 2020
According to Facebook, Roger Stone's network also included an unusual number of users from Pakistan and Egypt to "make it seem more popular". Remember kids, don't buy fake followers from foreign countries.
Facebook gave this description of the content being pushed by Roger Stone's network which sounds like a pretty accurate description of how I imagine Roger Stone's life has been in recent years, "the Page admins and account owners posted about local politics in Florida, Roger Stone and his Pages, websites, books, and media appearances, a Florida land and water resources bill, the hacked materials released by Wikileaks ahead of the US 2016 election, candidates in the 2016 primaries and general election, and the Roger Stone trial."
Facebook included this post from Infowars as one of three examples of content shared by Roger Stone's network.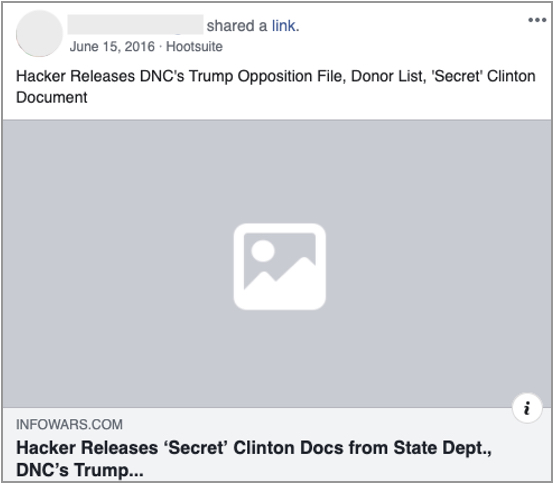 More from America First Projects: